Hotel Sophie in the heart of Normandy
Between Flers (10 mn) and Argentan (20 mn), the family atmosphere of the Hotel Sophie is the promise of a pleasant stay ...
In the Orne department, on the pilgrim's route to Mont Saint Michel, the Hotel Sophie proudly stands in the heart of the village of Briouze in a nice and cozy house passed down from generation to generation since 1949. At the helm, Sandrine and Maxime pursue this wonderful family adventure welcoming you to their hotel-restaurant, Logis Hotel which was renovated in 2011 and which is classified two stars.  
 In an environment combining tradition and modernity, Normandy charm and contemporary decoration, they propose quality services which guarantee your comfort in total simplicity.
As a family, alone, with friends or colleagues, you will be pleasantly surprised by the friendly family atmosphere. You will appreciate the quality of the cooking made from fresh products by our chef, Maxime Excellent - Master Restaurateur. The hotel has 7 comfortable rooms, single, double or triple (some are modular on request) and are all equipped with free wifi, a flat screen TNT television, a shower.
Close to Bagnoles de l'Orne, Flers, La Ferté Macé, Argentan, Domfront, our hotel in Normandy also hosts groups for private or professional events and offers specific rates for the VRP during a business stopover.
Business stopover near Flers and Bagnoles de l'Orne
Welcome to the** Hotel Sophie, a few minutes from Flers and Argentan, a friendly stopover for your professional trips to Normandy, Orne, ...
Located a stone's throw from Briouze station, less than an hour from the regional capital, Alençon, the Hotel Sophie represents an ideal stopover for professionals traveling in the Orne.
For business travel in the region on the Flers – Argentan axis, close to Putanges, La Ferté-Macé, Rânes, Flers, Domfront, and Bagnoles de l'Orne, you will appreciate the comfort and the warm atmosphere of our **hotel - restaurant. The friendly and professional welcome of your guests in one of the 7 rooms equipped with free wifi accompanied by a quality local cuisine concocted by the owner - "Maître Restaurateur" guarantee a tasty and relaxing evening for the business traveller.
We propose two formulas for your evenings:
- "Affaire" business stopover: set evening meal, comfort categoryroom and continental breakfast
- The "Gourmet" business stopover: evening meal to be chosen from the menu, comfort category room and continental breakfast
Restaurant in Briouze in the heart of Normandy
The restaurant of the Hotel Sophie, Logis de France in Briouze near Flers proposes traditional and tasty cooking.
Taste and authenticity are the key words of the cooking concocted by the chef of the hotel Sophie. The cooking of Maxime Excellent,"Master Restaurateur", enhances the produce of the rich Normandy area. A know-how handed down from father to son using only fresh produce from regional producers. This tasty cooking can be tasted in the "bistrot" atmosphere of the dining room and on our pleasant terrace, in fine weather.
Ideally located near Bagnoles de l'Orne, Flers, La Ferte Macé, Argentan and Domfront, our restaurant in Normandy welcomes you for your business meals or during your evenings stopovers and we assure you a rapid service if necessary
Choose from the à la carte selection or from our two menus: the Menu du Marché or the Menu des Halles, our formulas adapt to all tastes and budgets. We put our 3 privatizable restaurant rooms at your disposal and our chef can meet you you every day by appointment to study a menu adapted to your event with you (baptism, birthday, family meal, business meal, business, associations, cousinades ...).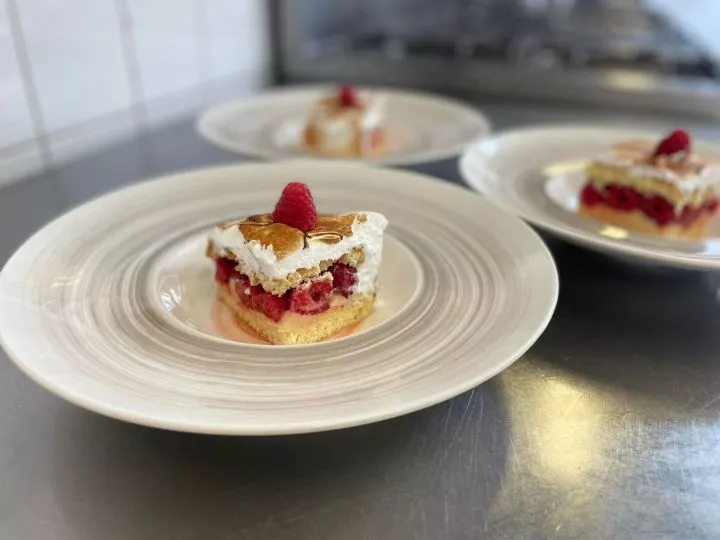 Banquets and receptions at the Sophie Hotel
Less than one hour from Alençon, between Flers and Argentan, the Hotel Sophie offers quality services for the organization of your private and professional events.
Close to Bagnoles de l'Orne, Flers, Argentan and Domfront, in Briouze, the Hotel Sophie proposes its facilities and know-how to accompany you in the success of your event. With its three reception rooms (60, 40, 20 people), it has a total capacity of 120 people to welcome your reception: family meal, communion, baptism, birthday or your professional seminar.
The location and layout of our restaurant make it an ideal stopover for coach tourists and tour groups visiting the area.
We create formulas adapted to all needs and budgets.
Contact us to discuss your project together.
Reception hours
Monday
7H30 - 14H00
18h30 - 20h15
Tuesday
7H30 - 14H00
18h30 - 20h15
Wednesday
7H30 - 14H00
18h30 - 20h15
Thursday
7H30 - 14H00
18h30 - 20h15
Restaurant hours
Monday
12H00 - 14H00
19h00 - 20h15
Tuesday
12H00 - 14H00
19h00 - 20h15
Wednesday
12H00 - 14H00
19h00 - 20h15
Thursday
12H00 - 14H00
19h00 - 20h15